LATAM Digital Media Awards 2018
CONGRATULATIONS TO ALL THE WINNERS!
The fourth edition of the LATAM Digital Media Awards was a success!
A big thanks to all the participants of WAN-IFRA's LATAM Digital Media Awards 2018 and to our international jury for their neat evaluation work!
...
"There is a high calibre of journalism in LatAm and I felt very humbled by how so many achieve that standard in tough political conditions."
David Walmsley, editor-in-chief, The Globe and Mail.
...
Check out the finalists' projects!
In this edition:

- 64 companies from 15 countries participated.

- 115 projects and 11 winners were presented.

- 4 new categories were launched.

- With media companies from 10 countries still in the competition, it was the most diverse and international finalist round.

- The jury was composed of 12 members, which made it the most numerous and international one ever.

- As requested by the jury and in recognition of the excellence showed in digital journalism projects a special jury award was created for the Best Digital Journalism Project. Three projects that originally competed in other categories were selected as finalists.

- Brazilian media companies come in strong and ended up as finalists in all 10 categories, winning 6 of them.
- 2 collaborative journalism projects were awarded.

- For the first time, Uruguayan and Venezuelan media companies are among the finalists.

- The various presidential elections in the region resulted in a significant number of projects related to electoral coverage and fact-checking.
- The winners of this edition will enter the annual WAN-IFRA World Digital Media Awards 2019 competition with the winners of this year's regional contest in Africa, Asia, South Asia, Europe, Middle East and North America. The World Awards will be delivered during the 71st World Congress of Media News of WAN-IFRA to be held on 1-3 June 2019 in Glasgow, Scotland.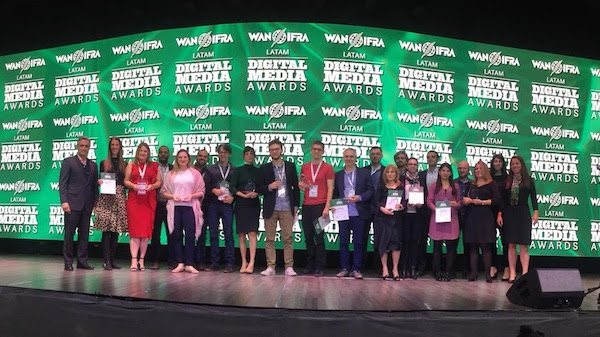 Stay tuned for our 2019 Awards!
Do you have any questions? Contact Us!